The latest in the popular series of BHA 'Christmas' cards was announced last week, and I for one think they're a great way for humanists to take part in all the festive celebrations going on this winter… with a bit of a wink and a nod.
When we announced it on Facebook, there was a little consternation over the word Christmas, but I tend to feel — personally, anyway — that Christmas is a perfectly good word for referring to this time of year. I certainly don't treat Christmas as an especially Christian holiday any more than I treat Thursday as an especially Thorian one. Maybe you'll disagree — feel free to tell me I'm wrong in the comments.
The BHA's latest Christmas card depicts Charles Darwin's 'Tree of Life' as a coniferous, snow-capped Christmas tree, with little references to his life and work on the card as well. It's a beautiful design which we're very pleased to be able to add to our growing collection of alternative seasonal cards.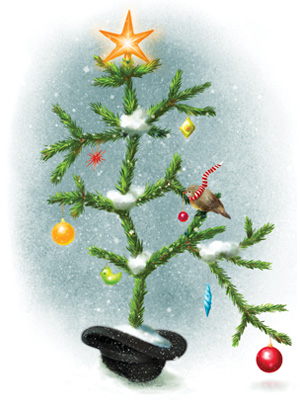 However you, or your family, or your friends and loved ones, celebrate this time of year, for many it will probably involve writing to those you can't be with and getting together with those you can for a meal or maybe an exchange of presents, as people have done in this part of the world going back thousands of years. A humanist 'Christmas' card lets you take part in the merriment, and cheekily put your own personal stamp on a staple tradition.
And feel good about yourself, too, as sales of cards are a source of funding for the BHA's charitable activities. Ahead of 2015, and with all the ambitious projects we have ahead of us, your support of our work continues to be invaluable.
In addition to the tree card (pictured above), we're also still selling our popular 'There's definitely a Santa,' Fibonacci spiral, Christmas/Saturnalia ambigram, and 'Santa Darwin' cards at the BHA store, and you can get yours today in time for Christmas if you buy yours now.