This blog is part of a series of perspectives on the EU referendum from prominent humanists on either side of the debate. Each puts forward a humanist case for the United Kingdom either remaining a member of, or leaving, the European Union. All six perspectives are linked in the image below.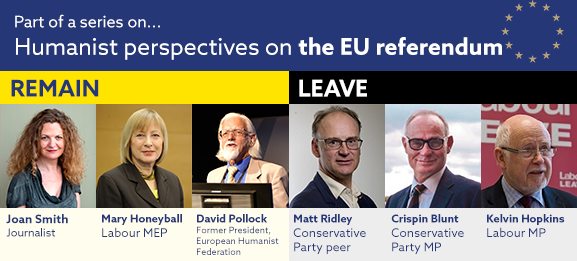 Mary Honeyball: Remain in the EU for peace, security, women, and our economy
We must never forget where and how the European Union was born: It followed two devastating World Wars and great anticipation and significant expectation followed. Nothing like those atrocities could ever or would ever happen again. And so the European Union was born.
And let us not forget that a fundamental principle of the European project is to secure common shared European values and to protect people's fundamental and human rights.
Today, we must not seek to isolate ourselves from 27 of our nearest neighbours; instead we must work in collaboration with others to fight the threat of terrorism, to tackle climate change, to trade freely and simply and to protect the most vulnerable in society.
When our neighbours face serious terrorist attacks like the recent atrocities in France and Belgium we must stand side-by-side in solidarity and neither turn our backs or run away.
Part of what makes us safer as a nation is our ability to cooperate with other member states to exchange and share information. Being part of the European Union and having access to institutions such as Europol is a huge benefit to all member states security.
Of course the European Union, like all organisations, is imperfect and there are things we must improve. We must not run away from the European project but embrace it, work with it and continue to be at the heart of it. We are better and stronger together.
Meanwhile while myself and colleagues continue to fight for it, the Brexit campaign has played on people's fear of immigration. I'm not dismissing those fears, but the truth is that whether we remain in the European Union or vote to leave, immigration will continue.
Official figures from the Office of National Statistics reveal that immigration from outside the EU is higher than from those within the EU. So for those who have a problem with immigration- it simply will not go away by voting to leave.
'Much of my work since I entered the European Parliament has concerned women and gender equality. I know that some parts of the Europe have anti-gender mobilisations and the European Union is an important safeguard against such far-right beliefs.'
An Australian points based system has been floated among euro sceptics as an answer to the 'problem', but closer examination of the model reveals that immigration has increased in Australia since the introduction of the system. In the UK we rely on immigration, just look at the care sector where one in five of those people working this industry is from outside the UK. We are living and working for longer we need enough people within the sector to support us.
If people come to the UK, pay taxes and contribute more to the economy than they take out then surely it is a good thing?
But the question is not and should not be confined to immigration. The IMF, the OECD, the World Bank the Governor of the Bank of England all warn of the consequences to our economy if we leave. How often does such a varied and learned group of people agree on such a huge issue? If you believe all of these world experts are wrong, then cast your vote as you wish, but do so with great caution.
And what happens in the event we do vote to leave. Our economy may not collapse overnight but we will be under huge strain. The clock starts ticking on negotiations immediately. There will be a period of around two years to negotiate with 27 countries. If we fail to reach a suitable negotiation in that time, then we revert to the World Trade Organisation (WTO) terms. An example of the consequences if we are forced to abide by the WTO terms is clear immediately. Currently the UK exports some 2000 cars a day to Europe and because we are members of the European Union they enter tariff free. Under the WTO terms, the UK will be forced to pay a 10% tariff like The United States and Japan.
There are also concerns over our continued loss of sovereignty from the Brexit campaign who claim we relinquish our ability to be sovereign to the European Union. We are and remain sovereign state and two clear examples show unambiguously how we have maintained our sovereignty: We decided not to be part of the Eurozone or part of the Schengen free zone either.
Much of my work since I entered the European Parliament has concerned women and gender equality. I know that some parts of the Europe have anti-gender mobilisations and the European Union is an important safeguard against such far-right beliefs.
Those who have a traditional view of the family, gender and reproductive rights are launching anti gender mobilisations. This isn't an abstract or baseless fear- it's happening across Europe, now.
Such groups claim that the European Union is promoting a gender ideology and that it is trying to break down traditional gender roles. In fact, the European Union is progressive in all of these areas.
It has been influential in starting to change women's position in the workplace, family and society as a whole. It promotes gender parity for women on boards and advocates a system of quotas to redress the imbalance. We need to be part of the European Union to encourage the UK to drive forward progressive change for women and gender equality. In addition, EU laws ensure that women are guaranteed the right to at least 14 weeks' maternity leave as well as protection from maternity related discrimination.
It's not just within the workplace that the European Union is working to improve the lives of women, it also seeks to protect them against violent individuals, abusive criminal gangs, traffickers and other areas of organised crime. The Victims Directive guarantees specialist support and protection from repeat victimisation. In addition, the European Protection Order and the Mutual Recognition in Civil Matters both protect women from perpetrators when they travel to any part of the European Union. And the Anti Trafficking Directive is a comprehensive framework which supports victims of this crime- 80% of which are women.
The European Union is progressive. It seeks to promote peace over hate and fairness over discrimination. It is something we must continue to be part of for our own sake and for that of future generations.