As the Government continues to delay reporting on the legalisation of humanist marriages, we are seeing increased expressions of the political consensus in favour of it. Two dozen members of the House of Commons today have signed an Early Day Motion to urge the Government to move towards legalisation. They already include MPs from Labour, Liberal Democrats, Plaid Cymru, Green, Conservative, and even SNP making a rare venture into English and Welsh matters. They include Christians as well as humanists, and there are more signatories to come.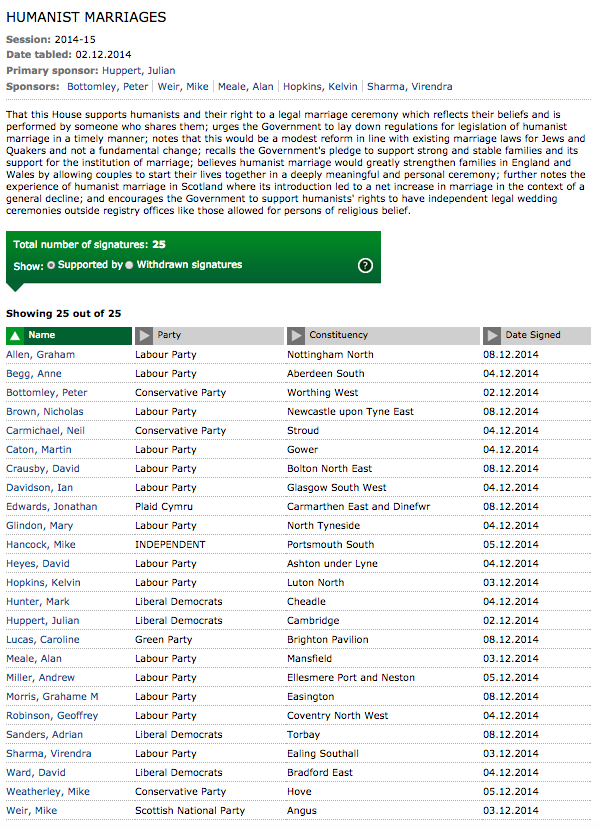 This is a follow-up to a triple cross-party strike from a Labour, a Liberal Democrat, and Conservative MP on 11 November, who pressed the justice minister from three corners of the chamber as to what was taking the Government (which had originally told the British Humanist Association that the whole issue might be taken care of by about eight months ago!) quite so long: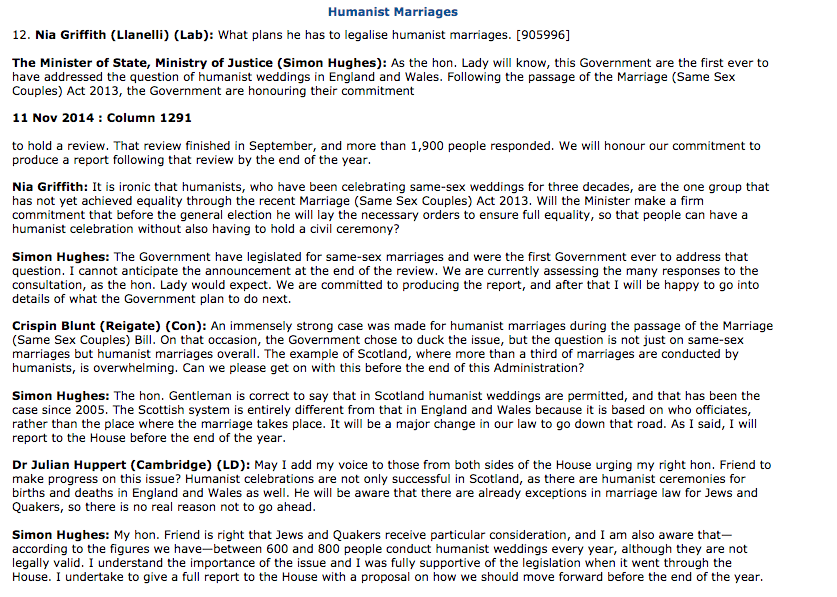 And on 4 December the Labour front bench, who were forced to compromise on humanist marriage at the time of the Marriage Bill last year when the Government threatened to delay same-sex marriage if the case for humanist marriage was taken to a vote, were showing their frustration:

And it's not just in the Commons. Last week, on 1 December, there was a mini-debate in the House of Lords in which there was not a single voice raised against humanist marriage and in which, again, there was cross-party support from Labour, Conservative, and Liberal Democrat, as well as independent peers. Again, support crossed belief lines with Christians such as cross-bencher Baroness Butler-Sloss also urging the Government to get on with legalisation. She and Baroness Thornton got pretty much as forthrightly critical of the Government as it is possible to be in the polite atmosphere of the Lords:

Unfortunately, it does seem that the Government is just not listening. Even when the subject was raised directly with the Prime Minister by an MP of his own party at Prime Minister's Questions on 19 November, there was no answer forthcoming on the substantive matter of humanist marriage, just the same 'wait and see' response, while Parliamentary time between now and the next general election bleeds away:

When the Marriage Act was going through Parliament, it was clear that there was majority support for the legalisation of humanist marriages in both the House of Commons and the House of Lords. The British Humanist Association, though obviously much much smaller and poorer than the wealthier and more powerful lobbies against humanist marriages, at least was able to make its arguments and expose the disingenuous ones of critics in the light of day. Now that the matter is being considered behind closed doors, there is no such opportunity.
All that can be done is to state yet again the case for legal recognition, against which no coherent or just case has ever to this date been made.
In England and Wales, members of literally dozens of religions from Scientology to Methodism and from all the denominations of Judaism to the Spiritualists and the Aetherius Society (Yes – honestly!) can all have a legal marriage in the place most special to them, conducted by one who shares their beliefs, and in the form that embodies their most deeply held beliefs and values. Those with humanist, non-religious beliefs and values don't have the same choice.
In Scotland, where humanist marriages are legal, they have proved hugely popular – so popular that they have contributed to a growth in marriages overall. Giving legal recognition to them in the whole of Britain would be fair, inexpensive, easy, uncontroversial, and beneficial for both individuals, wider society, and the economy. What can possibly be being discussed behind closed doors that weighs against all that?